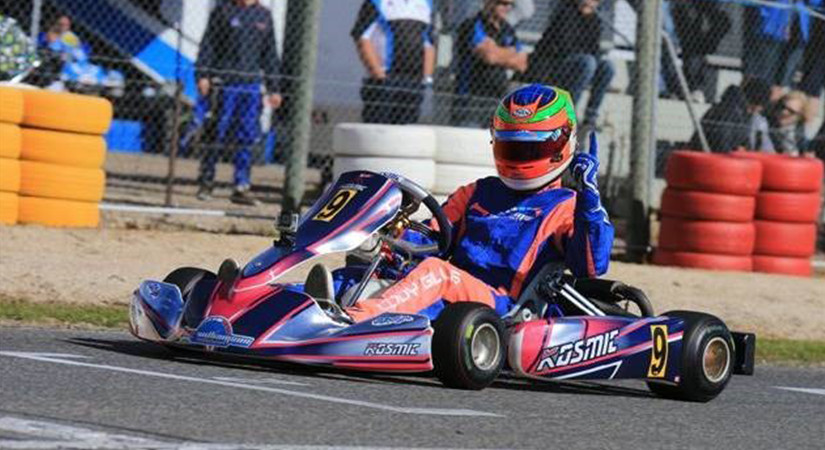 Congratulations Cody Gillis and family from Picton Karting Track
September 13, 2016
Cody set to take on world's best again
Top Wollongong kart racer Cody Gillis will head to Italy in October and represent Australia at the prestigious Rotax World Grand Final.
The Year 11 Figtree High School student has been selected for Australia for the world grand final at the highly regarded Circuito Internazionale di Napoli raced track in Salerno.
This year's week-long grand finals from October 15-22 will feature 360 elite drivers from more than 50 nations competing for the top of the podium.
Top Wollongong go kart racer Cody Gillis is heading to Italy to compete in the Rotax World Grand Final.
The Salerno circuit is regarded as one of Europe's best race tracks and is also very popular among Formula 1 drivers who use it for testing.
Last year at age 16, Cody made his Rotax World Grand Final debut in Portugal, taking on some of the best karters in the world.
With 72 competitors in his class from over 40 countries, the racing was intense and Cody experienced a mixed bag of emotions and results.
In one of the heats Cody was launched and had a huge roll over and end for ended twice, but fortunately came out of the crash unscathed.
With the experience from 12 months ago, the teenager is ready to take on the world again and do Australia proud in what is the elite competition in the sport.
This year while juggling his Year 11 studies, Cody managed to fit in hours of testing at the various race tracks around the country and compete in the Rotax Pro Tour National Series.
The National Series was the qualification event for the World Titles, with each race carrying valuable points.
Cody started brilliantly with back-to-back wins in the first two rounds before few mechanical issues hit him midway through the championship.
But a win and a second in the final two races was enough for Cody to seal a spot in team Australia for the World Titles for a second straight year.
When Cody is not in his go kart he works as a mechanic for drivers of the Tom Williamson Motorsport team at the Australian Kart Championship and the New Zealand Rotax Pro Tour Series. The youngster also loves playing soccer for Wests Illawarra.
This year more than 1,500 racers world-wide participated in national or international events to qualify for the Rotax Grand Final.
The competition features four classes and for many drivers it is a major first step into a career in motor sport.
Drivers as young as 13 years old are taking part in the Grand Finals and gaining international racing experience in the junior class.
A large number of current Formula 1 drivers started with Rotax engines including Jenson Button and Kimi Räikkönen.